A complete guide to prone and long range rifle shooting. The book is 382 pages and contains information pertaining to all aspects of competitive shooting. This book is great for shooters of all levels.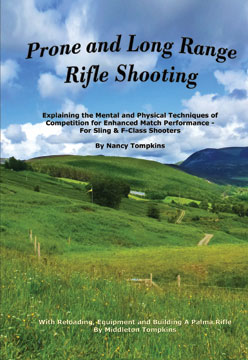 Topics Include:
The Prone Position
Shooting Fundamentals
Goal Setting
Mental & Physical Training
Reading Wind & Mirage
International Competitions & Travel
Loading for Long Range
Building a Palma Rifle
Coaching & Team Matches
Plus Much More....
---
*When you place your order, please specify if you want a signed copy (along with any specific requests).



______________________________________


US Orders
(Price includes shipping)
$45.00


---

______________________________________


Canadian Orders
(Price includes shipping)
$65.00


---

______________________________________


All Other Countries
(Price includes shipping)
$73.00


---






NEW in the 2nd Edition!

F-Class equipment and techniques
New & updated information
Hardback cover
Color pictures